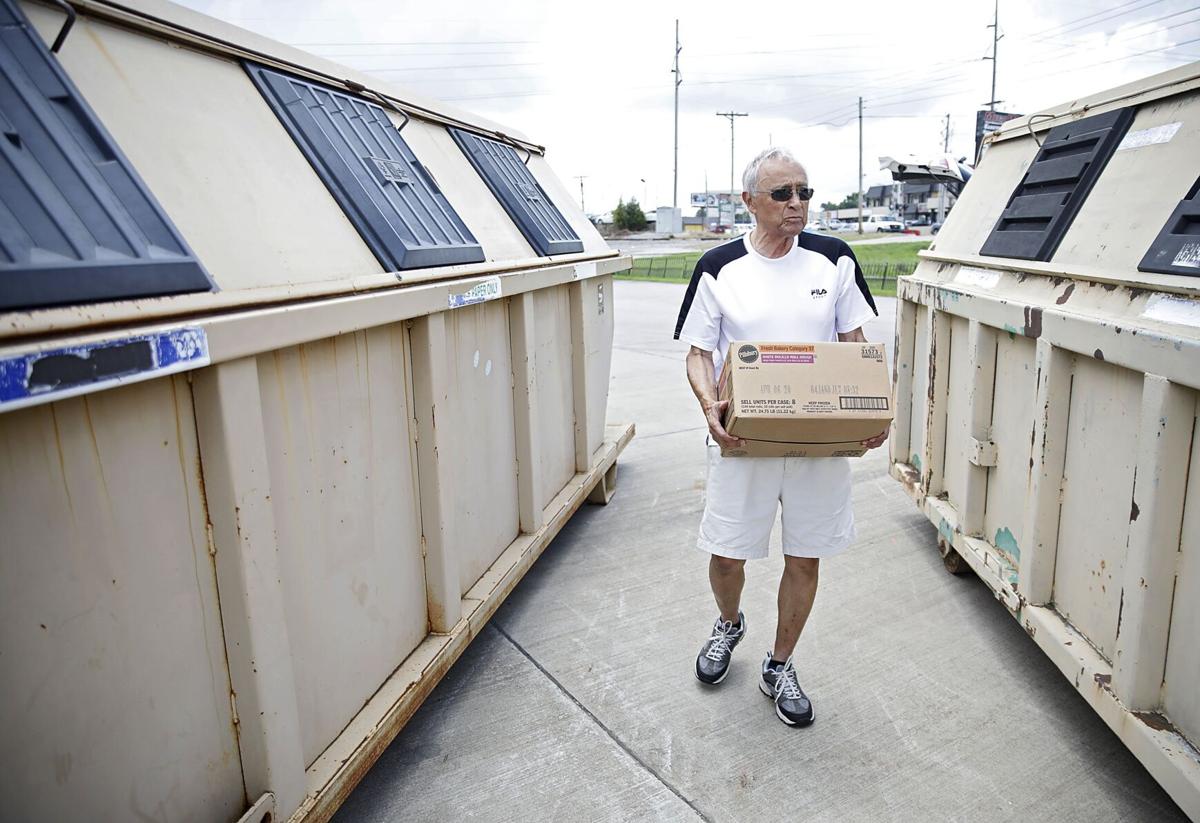 Watching firefighters battle an inferno raging inside, two employees who lived nearby approached him with tears in their eyes.
"They asked if they would have a job tomorrow," the vice president of American Waste Control remembered. "I wrapped my arms around them and told them yes — we need them now more than we needed them ever."
What was once the sorting destination for all city of Tulsa recyclables went up in flames after hours April 1 when a lithium-ion battery that never should have been recycled in the first place caught fire. The Material Recovery Facility — the machine that automatically sorts most of the single-stream recyclables via technology and some manual assistance, or Mr. Murph, as the company calls it — sustained detrimental damage. Rubber conveyer belts melted in the heat; sensors were destroyed; and computer screens burst.
In the spirit of waste recovery, AWC is committed to rehabilitating and retrofitting Mr. Murph back to health and even upgrading him a bit. The feat requires a fair share of time and an increasing price tag already growing past $10 million, but Ross says it's worth it.
"It's just the right thing to do," he said. "We're recyclers here."
The setback of Mr. Murph has disrupted waste supply and demand chains and sent people in the Tulsa metro area and communities as far as Bartlesville and Pryor scrambling for a place to take recyclables.
All of the blue-bin, city of Tulsa recyclables have been diverted to Covanta Tulsa, a waste-to-energy furnace, to be burned for electricity along with the rest of the city's trash, and AWC has been hand-sorting the rest of its customers' recyclables, which accounts for about 50,000 curbside customers in surrounding municipalities and thousands of private businesses.
"We're doing the best that we can," Ross said of the hand-sorting operation. "For right now, it's amazing what a little elbow grease and kicking and picking can recover."
Of the about 40 employees whose jobs were displaced in the fire aftermath, Ross said some have taken to manual sorting, some switched to the hauling side of the company and others worked with a staffing agency to relocate to temporary positions until Mr. Murph is up and running again.
Engineers are assessing what all can be salvaged from Mr. Murph, and Ross said removal of unworkable parts should begin early next week.
"Mr. Murph 2.0" is expected to be complete in December. He's expected to be able to process a greater quantity of recyclables and will be equipped with artificial intelligence to better identify commodities and pull out contamination.
Real humans, of course, will still be necessary for quality control.
Until then, Covanta Tulsa continues to turn away private haulers to be able to take on the extra bulk being brought in from the city of Tulsa. The facility was operating at capacity 24/7, 52 weeks a year before TRT went down, so for now, "it is what it is," Covanta Area Asset Manager Patrick Walsh said.
Processing less with more coming in the door
Because of the extra plastic, which burns hotter than other materials, now in the "fuel mix," the facility is burning less bulk to keep the super-heated furnace from overheating its boilers.
Instead of burning 1,000 tons — 2 million pounds — of trash every day, the facility is able to process 925 tons to 930 tons, which sets the facility back about 500 tons each week.
And the truckloads keep coming. To address a backup of garbage trucks from surrounding cities waiting to drop their loads, some cities, including Tulsa, have taken to picking up garbage and recycling in the same trucks and changing pickup schedules to alleviate the traffic jam at Covanta, which has "helped immensely," Walsh said. Tulsa's trucks have been beginning pickups at 5 a.m. since May.
At the peak, Covanta was processing 25 to 28 trucks an hour; that's a new truck about every four minutes on one of the facility's two scales. Now it's processing about 20 trucks per hour.
"We're still generating steam and generating electricity at a similar rate; we're just doing that using less trash because more material stays in our building for longer," Walsh said. "We're processing less, and we have more coming in the door."
Not subject to overheating boilers, the Metropolitan Environmental Trust has been processing more material as word spreads among Earth-conscious residents that their recyclables are being burned through the city's pickup.
Covanta captures and cleans the toxic gases generated through its furnace and pulls out metals from the leftovers to recycle, but what can't be burned or recycled is deposited in ash form as landfill covering.
The process reduces waste volume by about 90%, without which the state wouldn't be flat anymore, Walsh joked, but a portion of what is brought in does end up in a landfill.
For a visual example, from 2018-19, Covanta processed 316,015 tons of municipal solid waste. Unprocessed, the volume would fill the first 44 floors of the BOK Tower, Walsh said. After processing, the remaining ash would fill a little over four floors.
A dedicated segment
From what the executive director of the Metropolitan Environmental Trust can tell, there's a "pretty dedicated segment" of the area population that wants to ensure their recyclables are being recycled.
That, the MET can do, Bobby Schultz said. The MET contracts with mostly local organizations to recycle a wide variety of materials, some of which the city's blue bins won't accept.
Data to quantify the increase at the MET pre-TRT fire through June won't be available until late July, but Schultz said the workload change is tangible. The bailing center in Tulsa handles all that is gathered at the MET's more than 10 depots or partners in the area. Employees there doing the bundling and shipping have consistently had to work on days the facility used to be closed.
"Right now, with the cost of plastics and aluminums going up, we're able to actually turn a profit. (The depots have) never been set up with that in mind," Schultz said.
The nonprofit governmental trust is free to use and has drop-off depots staffed by developmentally disabled adults throughout the Tulsa-metro area, including Bixby, Broken Arrow, Claremore, Collinsville, Coweta, Glenpool, Sand Springs, Tulsa and an affiliate in Owasso.
The city board over the MET voted to defund two of the organization's three Tulsa depots earlier this year before the stresses of the TRT fire, Walsh said.
He's still on the lookout for another private funder to share the weight, but thanks to others, all three centers are able to run "full-steam" during the unusual influx of materials.
"Everybody's staying busy," Schultz said. "It's been a good team effort."