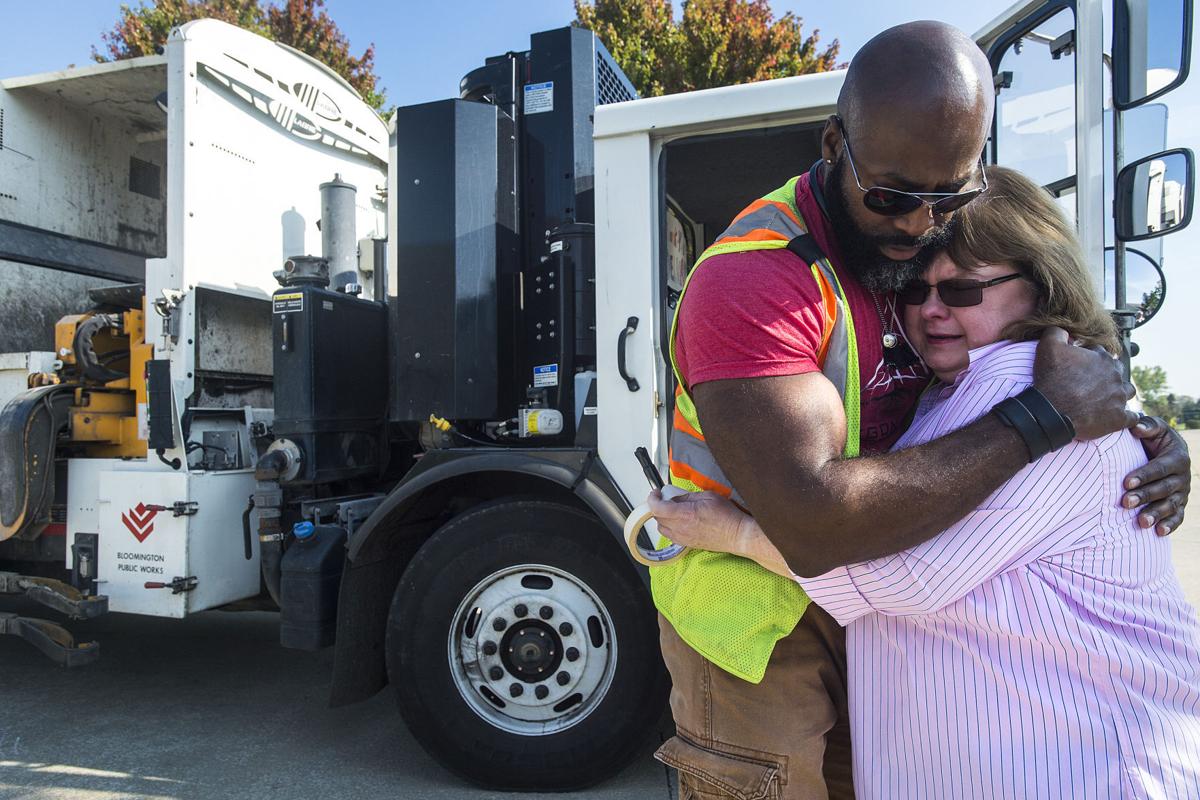 On Friday, the day of Ken Radley's funeral, his neighbors lined up their garbage cans in front of his Lake Ridge Court residence.
It was a poignant tribute to Radley, who on Fridays after the garbage truck collected trash in the neighborhood, would pull the garbage cans from the street back to the homes of his neighbors — all 29 of them.
At age 85, he died Tuesday after a fall in his driveway, "not in the line of duty," but while taking his dog out for a walk, said his neighbor Lois Hochstetler, who organized the garbage can salute.
Shortly after moving into the neighborhood several years ago, Hochstetler said she was confused when she looked out the window and didn't see her garbage can on the street.
"It was tucked up against the garage door, and here's Ken just going from house to house pulling up the trash bins," she said. "He did this every week. And if the recycling pickup was that week, he did it twice."
Before his funeral on Friday, members of Radley's family — daughter Brenda Koehler, son Russell, a granddaughter; a granddaughter-in-law and a great-granddaughter — did his "route" one last time, returning trash cans to his neighbors' homes.
Then the neighbors pulled their carts down to his house.
Like firefighters and police officers who line up to honor one of their own "we brought our trash carts and lined them up along the street so we could give a salute and thank-you to Ken," Hochstetler said.
"Every week Ken always made sure your trash can was at your garage door when you got home at the end of the day," said neighbor Valerie Kaiser. "It was a small gesture, but yet it was huge. And I personally appreciated it."
"I never asked him why he did that, but I often thanked him," said Hochstetler. "And he said he just liked to keep busy."
"He took great pride in his volunteer work, and I think he just kind of decided that the garbage carts was one of the things he could do, and he was going to help his neighbors that way," she said.
In addition to being a greeter, Radley helped with the hospital's housekeeping, said his daughter.
After moving three years ago into the house he shared with her on the long cul-de-sac off of Martin Luther King Drive in west Bloomington, Radley would bring her trash can back to the house.
"Then there was a neighbor lady who was elderly and he started bringing her can up to her house," said Koehler. "Before you know it, he was just doing the the whole doggone neighborhood."
Helping others was a way for Radley to stay busy, which was a priority for him, she said.
Within a couple of weeks of retiring in 1990 as a building engineer in Omaha, Neb., he suffered a heart attack, said Koehler.
"He said, 'I am never going to sit down again because if I sit down I'm going to have a heart attack. I've got to keep going.' That's what he did," she said.
Radley would follow the garbage truck around the cul-de-sac. Dopson's first encounter with Radley was helping him to his feet after he fell last winter while trying to keep up with the truck.
Koehler tried to get him to slow down after that fall, but that "was a major undertaking," she said. "He loved volunteering and helping people."
"Until he passed, I didn't realize how many lives he had touched too at the hospital," she added. "He would always say, 'Have a good rest of your day.' There were so many who came to us about how much that special greeting from him meant to them."