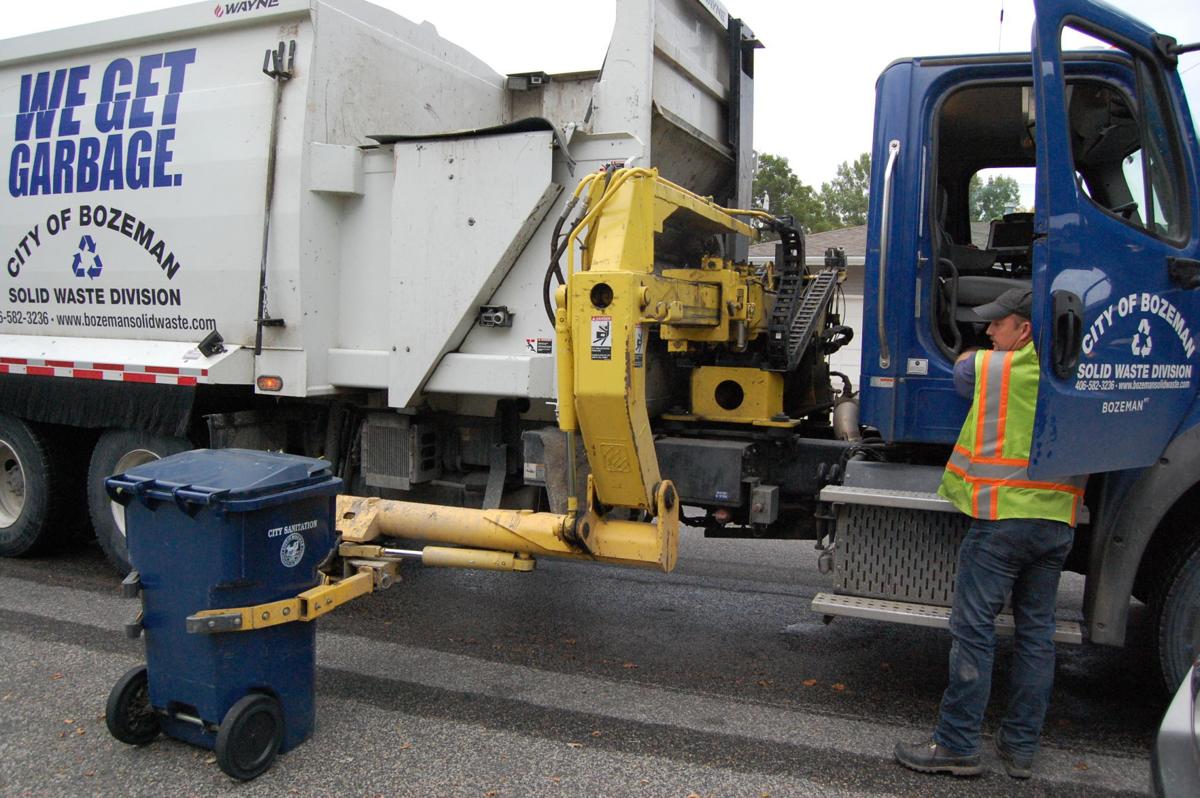 For roughly a decade, Mark Phillippi has gotten to know Bozeman through its trash.
He's one of the city's four to five people hauling anywhere between 10 and 12 tons of garbage out of Bozeman's neighborhoods each day.
"I didn't grow up thinking, 'Hey, I want to be a garbage man,'" Phillippi said. "But it's a good job. People love having their garbage taken away."
On Mondays, Phillippi has nearly 600 stops. On Tuesdays, he has more than 800.
Each day, his route seems to pick up new stops.
"We feel the city's growth really quickly. We get the calls to pick up on streets we've never heard of," Phillippi said. "You memorize the map one year, then it's a whole new thing the next."
Phillippi rolls out of the city's old landfill around 7 a.m. in a truck that towers more than 13 feet off the ground.
With four rearview mirrors to his right, two to the left, and a backup camera, "We got to worry about hitting everything."
His job is like a high-consequence version of a toy arcade claw machine.
On Monday morning, Phillippi stretched his truck's claw toward a garbage bin stationed below a tree and a few feet from a car in a one-lane alley.
"Believe it or not, this alley's at least got some room to move," he said.
As he talked, tree branches poked into his truck's open windows on each side.
"In other alleys — the real narrow ones — you better be on."
If a pickup is too close to a car or hidden by tree limbs, he has to get out of the truck to move the bin — the truck's claw is only so graceful in tight spots. If people leave piles of trash bags next to their garbage tote, that's another trip out of the truck.
Phillippi also has the garbage person's list of pet peeves: the people who run out behind him dragging their garbage hoping he'll turn around; the bags of dog poop that walkers leave next to, or on top of, cans.
And when trash is piled, "Now there's a challenge — not that I'm asking more people to do it."
It becomes a balancing act to ensure trash doesn't spill out as he lifts it toward his truck's bin. If it spills, that's another trip out of the truck.
Phillippi has worked for the city for roughly 15 years, from water divisions to landfill. His top job has been trash pickup.
Phillippi said he's the guy parents teach their baby to wave at and the person those kids eventually chase on their bikes on their way to school.
Sometimes neighbors bring him hot coffee or baked goods on a cold day. The one CD in his truck, "Saturday Night Fever," was from a man who didn't want to waste the music by throwing it away.
On his Monday route, Phillippi looks for the progress a customer has made in restoring a vintage bus. On his Thursday route, Phillippi stops to pet the golden labradoodle that waits for his arrival.
"You get to know people," Phillippi said. "If you're here long enough, you know who the renters are or who moved by their trash. You'll see families grow."
 Source: https://www.bozemandailychronicle.com/news/everyday/everyday-people-the-garbage-man/article_24022c02-fc87-5231-a7dd-7d7b52ff961f.html