WAYNESBORO- "I'm living the dream," Mike Campbell, city refuse worker of 18 years, said. "I've wanted to do this since I was a kid. I've always wanted to ride the step."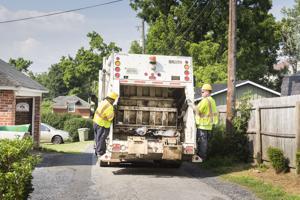 To children, it looks like a fun job filled with adventures. They watch as the garbage man rides by hanging on to the back of the dump truck in awe. Even though 'riding the step' seems like a fun ride, it's a job filled with heavy lifting, strong smells and hard work. On Tuesday, the News Virginian spent some time out on the job with city refuse workers.
The job begins early, as refuse workers begin work at 6 a.m. when they start their 10- hour work day.
City refuse workers work in teams of three riding on a 20-yard dump truck that can hold 10 tons worth of trash. Each truck has two men or women hanging on the back of the truck ready to dump cans, and a driver who waits to be told to move to the next house. The refuse workers go to nearly 600 houses every day Monday through Friday, in all weather conditions, including rain, snow and extreme heat.
"I hope that people realize that in the winter we have to go out into bad conditions," Kenny Conner, city refuse worker of eight years, said. "If it's really bad, we just can't get out, it's not safe."
As the refuse workers travel around the city collecting trash, they are required to lift nearly 200 pounds of trash in every can.
"It's good cardio," James Mcbeth, a city refuse worker, said. "It's a lot more mental work. You've got to be able to stick with it. People think that they can do it, but when they get here it's a whole other ball game."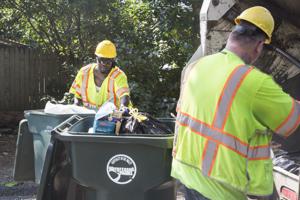 Behind the truck, workers are exposed to leaking garbage and a strong odor from the truck, which occasionally gets onto the workers. Some days workers stay cleaner than others.
"Today we look pretty clean, but it can get pretty bad sometimes," Mcbeth said. "If you appreciate the job, though, none of this matters. You're just doing something to help the community."
Refuse workers do their best to collect waste, because, as they like to say on the job, trash means a lot to people.
"If we don't clean up you'll end up with wildlife and bugs," Mcbeth said.
"It doesn't cost anything for someone to say thank you," Conner said in reference to the men working.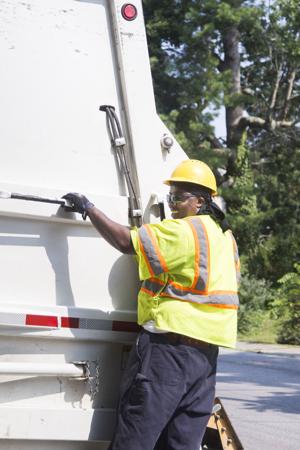 Awesome story submitted by,Clarice Ellinger is a summer intern with The News Virginian. She can be reached at (540) 932-3561.
http://www.dailyprogress.com/townnews/work/living-the-dream-a-day-in-the-life-of-a/article_3629a4ea-4d45-11e6-92e1-17508394bd8c.html