Waste & Recycling Workers Week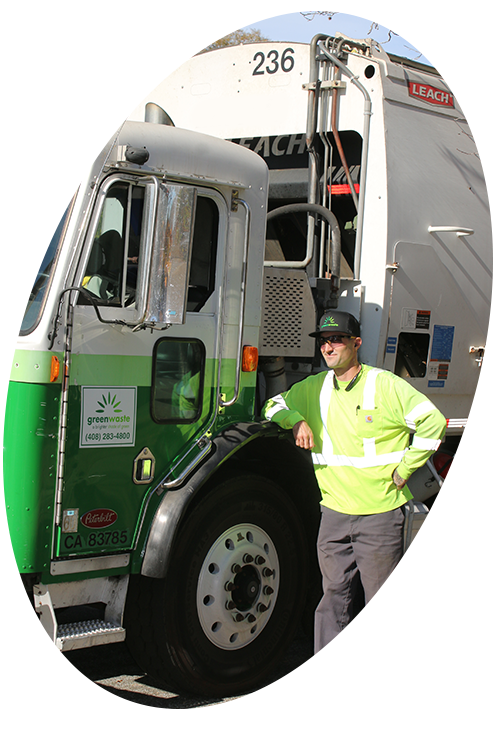 A typical day starts early. I clock in at 5:30am before conducting my safety checks and then heading to Atherton to collect yard trimmings.
All our routes are planned to be as efficient as possible. I get to know which areas are busiest and service those first, ideally before any traffic. Atherton is a new service area, and it takes about a month to really learn a new area. It takes even longer to get to know the traffic flow and have a solid understanding of each neighborhood.
I start my route by servicing schools. Servicing busy areas first not only saves time and conserves fuel, but it is also safer. I am always on high alert. I am constantly aware of bikes, pedestrians, and cars backing up. Safety is exceptionally important around schools.
After the more active areas, I move on to quieter streets. I drive a fully automated collection vehicle, so I can stay in the truck while the arm grabs, dumps and returns the cart. I do get out of the truck if I need to clean up incidental fallen debris, or a resident has backyard service.
After the truck is full, I drive back to San Jose to our Materials Recovery Facility to dump the material. From there, the material will be processed and sent to a composting facility. I usually dump material twice in one day. My day typically ends around 2:00 pm back in San Jose. However, it varies a lot based on road conditions and which specific area I am servicing.
The best part of my day is seeing the kids who love watching the trucks. There are a few of these kids along my route that know when I will be there and wave when I come by. Just a simple smile and wave makes a meaningful impact on my day.
The most challenging part of the day is dealing with other drivers on the road that are frustrated by the presence of a garbage truck. The one thing I wish people knew about this job is that we are not trying to be in the way. There is a lot of thought that goes into how to be the least intrusive in a neighborhood. Throughout the day we use two-way radios to communicate what is going on in the area. I am lucky to be part of a great team and can trust all the supervisors to have my back.
One misconception people have about this job is that we are "just driving". Being a collection driver demands maximum attentiveness. We memorize routes. We are constantly aware of the road and the material we are collecting. We take the job very seriously.
My favorite memories from the past 15 years are my interactions with a resident in San Jose, Johnny, who always came out to chat with me and my partner. Plenty of customers have thanked me in a meaningful way, like posting signs on carts and in windows, especially through COVID-19.
The highlight of my work is knowing I am doing something positive for the world while being able to take care of my family. The material I collect is diverted from the landfill. The yard trimmings become a new product and have a new life through composting. It is rewarding to know I am helping my kid's future by doing something that helps the environment.​