The City Of Roanoke Has A Hero, Meet Paul Ragland!
On Thursday, Everlie, Grayson and Anthony lined up on the lawn in front of their grandfather's house in Hollins, waiting for "Big Paul" to arrive in his garbage truck.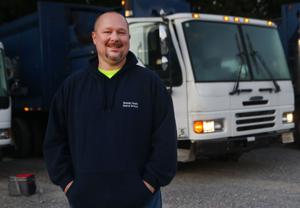 Paul Ragland has developed close relationships with some of the families of the Roanoke County trash route he has had for 11 years.
As soon as the blue Roanoke County vehicle rounded the corner, 1-year-old Everlie Beckner toddled down the sloped yard. Her grandfather, Dick Tlockowski, struggled to out-bellow Paul Ragland's playful honks as the county employee worked his way through the cans lining the opposite side of Capito Street. Everlie's brother and cousin, 3-year-old Grayson Beckner and 4-year-old Anthony Tlockowski, shifted impatiently near a tree, more seasoned to the routine.
"Evie, come back in the yard," Tlockowski said. "He'll come back around."
Greeting the family has been Ragland's weekly ritual for almost two years, Dick Tlockowski said. Even on days when no children are at his home, the retired post office worker banks on hearing Ragland's horn sounding down the street.
"They go crazy for him," Tlockowski said. "He's a very nice man, very funny. They took to him almost immediately."
Ragland, who has worked the same four routes since 2004, prefers to think of himself as "just your friendly neighborhood garbage man." The 42-year-old Roanoke County native has a wave and small talk not only for the children enraptured by his big vehicle, but also for retired residents, people who work at home and anyone who cares to say hello.
"My grandparents, they lived in Boones Mill growing up. You didn't pass anybody without waving," Ragland said. "Same thing in Catawba, where I grew up. You're supposed to be friendly to people, especially kids."
His demeanor — and his vehicle — have garnered him a small fan club among the kids who press against screen doors and stand watch on porches, waiting for him to show up.
"Big trucks, fire engines, trains — kids are just drawn to that stuff," Ragland said. "One of the drivers on our route, she was saying just last week, there's kids that have just about busted the blinds open. It's almost like the dogs and cats that are dying to see outside — well, they're dying to see the trash man."
Some even greet Ragland with small gifts — key chains from recent vacations, single-serving candies and snacks.
At one home on Burlington Drive, Ragland said a brother and sister started competing to see who could bring him treats each week after the girl offered him a bottle of Pepsi at the beginning of the summer.
Although they're now in school, those kids have kept up their tradition — with their mom's help. Two weeks ago, their mother brought Ragland his weekly snacks: Ritz crackers and Gatorade from the sister, Scooby Snacks gummies and cream soda from the brother.
"She told me she was glad I come only once a week," Ragland said. "She said if they wanted to do this with the mailman, she wasn't sure she could keep up."
Roanoke County Solid Waste Manager Nancy Duval said it's not unusual for residents to be friendly with their garbage pick-up crews.
"But not to the extent that Paul does. He's probably at the top of the heap in terms of that," Duval said. "A lot of the drivers, they want to get the cans and get out. But Paul likes to stop and talk."
And while Ragland has received the odd complaint for blowing his horn early in the morning, Duval said she doesn't mind her drivers forging relationships with residents along their routes.
"I think it's good customer service, good public relations for them to be out and about," she said.
Residents sometimes have a hard time recognizing him when he's not behind the wheel, however. Ragland said in some cases he's had to reintroduce himself to residents he sees while refereeing high school volleyball and basketball.
Earlier this year, Tlockowski said he ran into Ragland while with his wife and Anthony at a local 7-Eleven.
"He said, 'Hey, Anthony,' and my wife kind of gave him a nasty look 'cause he wasn't in his green shirt," Tlockowski said Thursday with a laugh. "I didn't recognize him, either. He's shorter than I expected, because I never saw him outside the truck."
Meeting people in the neighborhoods he works also gives him a chance to see the children grow up, Ragland said. Over the past 11 years, he's watched kids be replaced by their younger siblings at the window. Ragland said the children serve as a reminder that his own daughter and son are changing just as fast.
Earlier this year, Ragland said he drove down Capito Street when he noticed Anthony, Grayson and Everlie running toward him, as usual. But this time, Everlie was enthusiastically showing off her ability to chant his name along with her brother and cousin.
"She ran down and she was so excited to be able to say my name," Ragland said. "She was going 'Paul, Paul, Paul, Paul.' It sounded like someone on a court going 'Ball, ball, ball,' but she was so excited to be able to say it."
Credits;http://www.roanoke.com/news/local/roanoke_county/friendly-neighborhood-garbage-man-connects-with-roanoke-county-kids/article_39db2cbb-0af8-5648-9a03-3060bfd50ae6.html
By Tiffany Stevens [email protected] 981-3349